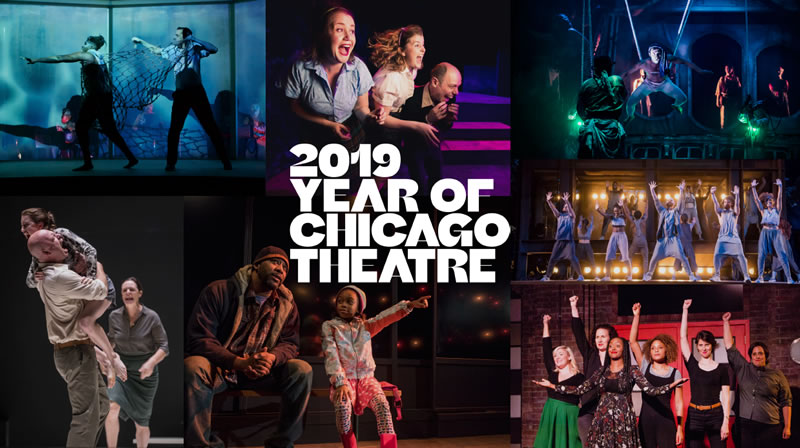 The City of Chicago and the League of Chicago Theatres have designated 2019 as the
Year of Chicago Theatre
.
This citywide, year-long focus on theatre is the first of its kind in the U.S.
The initiative includes performances and special events throughout the city – including theatre-themed events in all 77 community areas, as part of the Chicago Park District's 'Night Out in the Parks' series. The City of Chicago and its partners will also launch a marketing campaign; provide additional financial grants to theatre projects; encourage dialog around inclusion and equity; and call on civic, philanthropic, arts and business leaders to support the theatre community.
For press announcements and free public events, visit ChicagoPlays.com.
Under the leadership of Mark Kelly, Commissioner of the City of Chicago's Department of Cultural Affairs and Special Events (DCASE), and Deb Clapp, Executive Director of the League of Chicago Theatres, the Year of Chicago Theatre (YOCT) is being organized by five committees comprised of over 100 members – focused on Inclusion, Legacy, Marketing, Partnerships and Special Events. See below for information on each committee's membership and their key initiatives.
---
Inclusion Committee
Co-Chairs: Tyrone Phillips, Artistic Director, Definition Theatre Company
Erin Harkey, Deputy Commissioner for Programming, DCASE
Committee Members: Mary Kate Barley-Jenkins , Adventure Stage Chicago; Quenna Barrett, Goodman Theatre; Tony Bruno, UrbanTheater Company; Michael Dalberg; Lauren Gardier, Writers Theatre; Isaac Gomez, DePaul University, The Theatre School; Evan Hatfield, Steppenwolf; Emmi Hilger, Something Marvelous; Felicia Holman, Links Hall; Emily Hooper Lansana, University of Chicago Logan Center for the Arts; Nikki Patin, University of Chicago Arts and Public Life; Hillary Pearson, Harris Theater; Christine Perez, Chicago Latino Theater Alliance; Kemati Porter, ETA Creative Arts ; Julie Proudfoot, Artemisia; Jonald Reyes; Marcus Robinson, Collaboraction; Daina Sauls, League of Chicago Theatres; Mara Stern, Northlight Theatre; Regina Taylor; Jimalita Tillman, Harold Washington Cultural Center; Ellen Willett, Steep Theatre Company; Angel Ysaguirre, Court Theatre; Dominique Boyd, University of Chicago Logan Center for the Arts; Neel McNeill, Definition Theatre Company.
Key Initiatives:
 Launched the Year of Chicago Theatre Playwriting Series
 Launched the Year of Chicago Theatre Microgrant Program for Nonprofit Organizations Application deadline is Friday, April 5 at 5pm CST
 Commissioned artist Paola Aguirre to create a theatre asset mapping project at the Chicago Cultural Center (through June 23, 2019). Through this installation, visitors to the Cultural Center will have the opportunity to document theatre assets – including people, organizations, facilities, businesses, and place-based histories that have supported and continue to inform the development of theatre in our neighborhoods.
---
Legacy Committee
Co-Chairs: Doreen Sayegh, Manager of International and Special Projects, Chicago Shakespeare Theater
Kalena Chevalier, Director, Cultural Grants Program, DCASE
Committee Members: Drew Blau, Chicago Film Archive; Brandon Boler, Nothing Without A Company; George Cederquist, Steep Theatre Company; John Collins, Goodman Theatre; Heather Gilbert, Columbia College Chicago; Claudia Hommel, Cabaret Connexion; Kristin Larsen, Arts & Business Council; Mark Larson, Independent; Susan Latham, The Actors Fund; David Liesse, Joseph Jefferson Awards Committee;  Cristina Nordin, Columbia College; Breahan Pautsch, Akvavit Theatre; Kate Piatt-Eckert, Steep Theatre Company; Alan Salzenstein, DePaul University; Kevin Sparrow, Nothing Without a Company; Benjamin Thompson, American Blues Theater; Ellen Wadey, Gaylord and Dorothy Donnelley Foundation; Sarah Zimmerman, Chicago Public Library
Key Initiatives:
 Developing a system for capturing key data metrics that can be used to assess trends, to shine a spotlight on Chicago's theater scene, and to advocate for the benefits theatre provides to individuals and communities.
 Convening theater districts and other groups of theaters to create dialogue related to resource sharing.
 Planning to curate and present a Chicago theatre showcase for national/international programmers and journalists to broadcast to the world the richness of the Chicago theatre community.
 Cultural Grants Program:
– Project Grants in support of initiatives that have the potential to impact the Chicago theatre sector at large will be made through DCASE's CityArts Program. We anticipate awarding 4-15 Project Grants ranging from $5,000 – $50,000.
– DCASE will also offer Microgrants in support of projects that are increasing diversity and access in Chicago's theatre sector, with a focus on Chicago's South and West sides. We anticipate awarding 15-20 grants ranging from $500 – $5,000.
---
Marketing Committee
Co-Chairs: Jana Liles, Director of Marketing and Communications, Victory Gardens Theater
Jamey Lundblad, Chief Marketing Officer, DCASE
Committee Members: Nicole Brown, Envisionit; Melissa Cameron, Emerald City Theatre; Christine Carrino, DCASE; Rita Chen, Choose Chicago; Jay Corsi, Goodman Theatre; Alan Davis, Black Ensemble Theater; Anna Marie Faulkner, Lookingglass Theatre Company; Ann Filmer, 16th Street Theater; Nick Harkin, Carol Fox & Associates; Ashlee Harris, Broadway In Chicago; Hannah Kennedy, Chicago Shakespeare Theater ; Dawn Kusinski, The Second City; Jason Lesniewicz, Choose Chicago; Madeline Long, Steppenwolf Theatre Company; Laura Matalon, Hamilton; Kate McKenna, Lakeview East Chamber of Commerce; Mara Mihlfried, Northlight Theatre; Lyle Miller, Black Ensemble Theater; Laura Nair, League of Chicago Theatres; Erika Nelson, Steppenwolf Theatre Company; Austin Packard, Porchlight Music Theatre; Carey Randall, Blue Man Group; Suzanne Santos, Allied; Cathy Taylor, Cathy Taylor PR; Ivan Vega, Urban Theater Company; Stephanie Weddell, Sideshow Theatre Company
Key Initiatives:
 Developed brand positioning, statement and subsequent Brand Book and Brand Presentation.
 Assembled YOCT Digital Toolkit that includes suggested copy for social media posts, a number of digital graphics, example messaging, a boilerplate for press releases and three versions of the sizzle reel of varying lengths.
 Released Press Announcements (9/17/18, 2/11/19) and continue to actively cultivate new press opportunities.
 Organized the collective social media launch of the YOCT on New Year's Day.
 Launched a comprehensive regional advertising campaign that includes rack cards and a program booklet, digital billboards, signage on City Information Panels, street pole banners, Big Belly recycling unit graphics, advertising on CTA trains and buses, advertising at O'Hare, and wall graphics and a Hot Tix presence at McCormick Place.
 Working closely with Choose Chicago as they developed their largest-ever digital marketing campaign for theatre as well as hosting theatre-themed individual and group media tours throughout the year; and media promotional events in New York City, London, Toronto, Montreal, Paris, Munich, Mexico City, Sao Paulo, Beijing, Shanghai and Tokyo.
Working to cross-promote the WTTW Stage Players series of 1-minute videos showcasing the actors, architects, playwrights, choreographers, ushers, stage managers, patrons and others who make Chicago's theatre scene one of the most thrilling and vibrant in the country.
---
Partnership Committee
Co-Chairs: Karen Cardarelli, Executive Director, Emerald City Theatre
Monica Wilczak, Director of Development, DCASE
Committee Members: Sandra Aponte, Chicago Community Trust; Penny Brown; Mary Kay Bonoma, Illinois Restaurant Association; Krista Bryski Richard, Chicago Park District; Diane Claussen, DePaul University, The Theatre School; Julia deBettencourt, Chicago Public Schools; Jeff DeLong, Athenaeum Theatre; Heather Dougherty, Columbia College; Laura Gale, Gift Theatre; Dillon Goodson, Lakeview Chamber of Commerce; Robin Hammond, Lincoln Park Chamber of Commerce; Kendra Helton, Northern Illinois University, School of Theatre and Dance; Kristin Hettich, Alphawood Foundation; Jess Hutchinson, Independent; Kay Kron, Chicago Children's Theatre; Tony Lawry, Theatre Above the Law; Margaret McCloskey, Remy Bumppo; Matt Merrill, Chicago Children's Theatre; Mary Ellen Messner, Chicago Public Library; Steve Miller, Victory Gardens Theater; Kalindi Parikh, Chicago Loop Alliance; Jonathan Pitts, Chicago Improv Productions; Ryan Stanfield, Victory Gardens Theater; Ben Thiem, League of Chicago Theatres; Jeremy Wechlsler, Theater Wit; Diane Whatton, BMO Harris / Lookingglass Theatre Company Board; Susan M. Zellner, Court Theatre
Key Initiatives:
Working to build strategic partnerships with the Chicago Park District (Night Out in the Parks), Chicago Public Library (theatre-themed bookmarks available in branch libraries – and more), Chicago Public Schools (Department of Arts Education) and other City of Chicago departments and sister agencies.
 Secured $1 million in foundation support for the YOCT. Grants received from BMO Harris Bank, Bayless Family Foundation, The Chicago Community Trust, Illinois Arts Council Agency, The Joyce Foundation, Lloyd A. Fry Foundation Endowment at Millennium Park Foundation, Millennium Park Foundation, Prince Charitable Trusts and Richard H. Driehaus Foundation will support inclusion and equity initiatives, additional grants to theatres, performances and special events for the public, and a marketing campaign that leverages a new brand for Chicago theatre.
 Coordinating a Chicago Cubs Theatre Community Night (September 3, 2019).
 Partnering with Art on theMART to coordinate theatre-themed digital art projections (Wednesday – Sunday, ongoing).
Discussing a partnership with Illinois Restaurant Association (Chicago Gourmet Week).
 Exploring a partnership with The Magnificent Mile Association (Lights Festival).
 Coordinating with City of Chicago Special Service Area (SSA) Program and local chambers of commerce. (Lakeview Chamber of Commerce created a "Theater Champions" form to identify businesses that are committed to spreading the word about YOCT.)
 Organized a Theater Leadership convening with executive and artistic directors and their board members. A second convening is scheduled in May.
Working with Chicago Loop Alliance on the 2019 ACTIVATE season (ACTIVATE: Backstage), a series of four summer nights inspired by the art of performance – aligned with the Year of Chicago Theatre.
---
Special Events Committee
Co-Chairs: Myrna Salazar, Executive Director, Chicago Latino Theater Alliance
Melanie Wang, Director of Cultural Planning, DCASE
Committee Members: Sara Carranza, Chicago Latino Theater Alliance; Katie Cassidy, Lifeline Theatre; Clyde Compton; Writers Theatre; Kiana DiStasi, Goodman Theatre; Guillermo Duarte, UIC; Tarah Ortiz Durnbaugh, Urban Gateways; Angelique Grandone, Chicago Park District; Sylvia Hevia, Teatro Vista; Aidan Kranz, DCASE; Ann Kreitman, (re)discover theatre; Lauren Lewandowski, After School Matters; Maureen Martino, Lakeview East Chamber; Meghan McCarthy, DCASE; Neal McCollam, Univeristy of Illinois Chicago; Maggie McNamara, Broadway In Chicago; Qiana Moore-Nightengale, Court Theatre; Hilary Odom, Lookingglass Theatre; Jen Poulin, Broken Nose Theatre; Alicia Senior-Saywell; Scott Silberstein, HMS Media; Jesse Swanson, Second City; Anna Trachtman, DirectorsLab Chicago
Key Initiatives:
 Served as the planning committee for It's Showtime, Chicago!, the Year of Chicago Theatre launch event aligned with Chicago Theatre Week 2019 – attended by more than 750 patrons and theatre stakeholders.
 Strengthening YOCT efforts through ongoing community advising on new public programs and collaborations in the Year of Chicago Theatre, including: stakeholder convenings, youth engagement programs, neighborhood initiatives and select agency collaborations such as Chicago Park District Night Out in the Parks and Chicago Public Schools Youth TheatreFest.
 Advancing events, programs and resources to promote broader industry awareness and citywide participation in Year of Chicago Theatre grant and commissioning opportunities.
Elevating theatre via LUMA8 Arts in the Dark programs. From Riverwalk Lantern Processions this summer to the Halloween Parade on October 19, these special events featuring theatre groups and artists are designed to highlight Chicago's diverse cultural landscape.
Announced the Millennium Park Summer Film Series (Tuesdays, June 4 – August 20, 2019) co-presented by the City of Chicago and 13 local theatre companies – celebrating the Year of Chicago Theatre. Companies include About Face Theatre, Aguijón Theater, Black Ensemble Theater, Chicago Children's Theatre, Chicago Shakespeare Theater, Court Theatre, eta Creative Arts Foundation, Free Street Theater, Goodman Theatre, Lookingglass Theatre Company, Rivendell Theatre Ensemble, Steppenwolf Theatre Company, Teatro Vista and Victory Gardens Theater.
---
Neighborhood Chamber and SSA Theatre Champions
Thanks to these neighborhood chambers and SSAs who are helping to promote and advance the Year of Chicago Theatre:
95th Street Business Association, Andersonville Chamber of Commerce, Beverly Area Planning Association, Chicago Loop Alliance, Edgewater Chamber of Commerce, Greater Ravenswood Chamber of Commerce, Lakeview Chamber of Commerce, Lincoln Park Chamber of Commerce, Lincoln Square Ravenswood Chamber of Commerce, Morgan Park Beverly Hills Business Association, North Branch Works, North River Commission, Northalsted Business Alliance, Northcenter Chamber of Commerce, Old Town Merchants and Residents Association, Rogers Park Business Alliance, Roscoe Village Chamber of Commerce, Six Corners Association, South Shore Chamber of Commerce
---