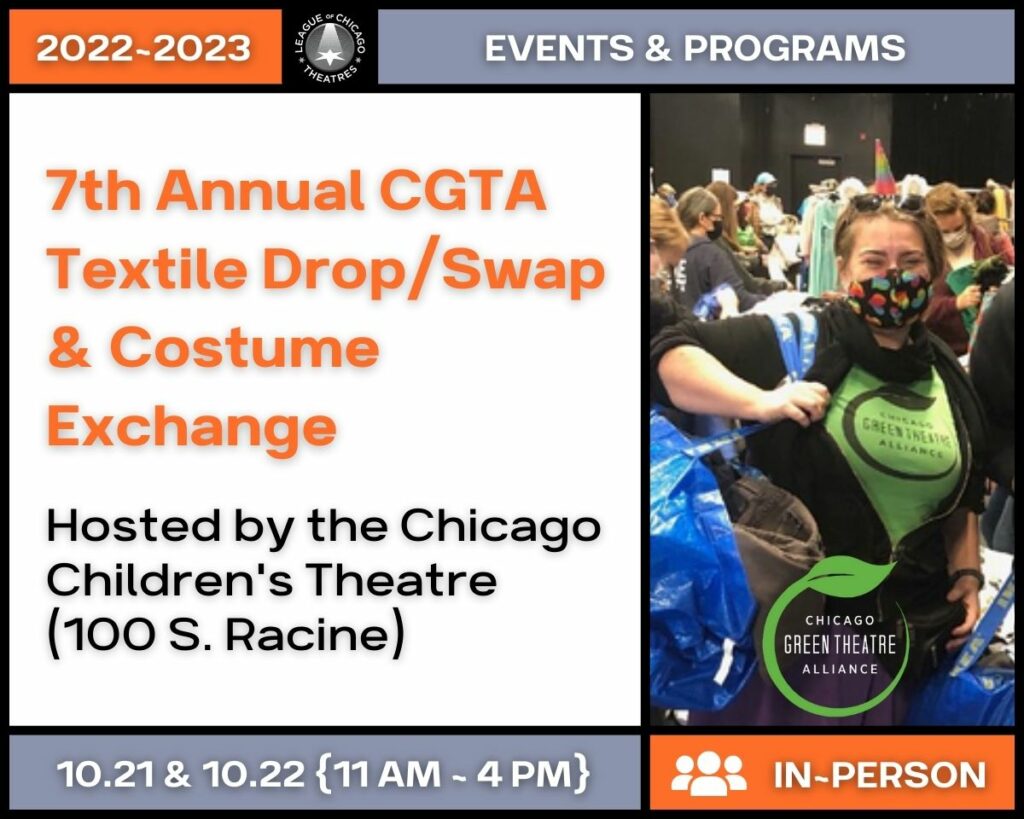 Friday, October 21, 2022
11:00AM
Chicago Children's Theatre
Saturday, October 22, 2022
11:00AM
Chicago Children's Theatre
Are you ready for free costumes & clothing leading up to Halloween? Are you ready for the euphoria that comes when you empty out the overflowing closet at your theatre/home? Are you ready for a combination of both? Save the date for the 7th Annual Chicago Green Theatre Alliance's Textile Drop/Swap & Costume Exchange!
This two-day event will be held at the Chicago Children's Theatre, 100 S. Racine, from 11am – 4pm on Friday, October 21st, 2022 & 11am – 4pm on Saturday, October 22nd, 2022.
Textiles Accepted: Clothing, Costumes, Shoes, Hats, Accessories, and Household Textiles (towels, sheets, blankets, etc). After the event, all surplus textiles that are not taken by visitors will be donated to a textile recycling center.
IMPORTANT: This year WE WILL NOT BE collecting e-waste of any kind at this event.
 All staff and visitors will be required to wear a mask during the event. Please bring your own mask, however, we will have some extras at the door just in case. If you are feeling ill, please do not attend the event (this building is frequented by children & elderly patrons). Thank you for your consideration.
The event will take place inside the theatre. Visitors may park in the Chicago Children's Theatre parking lot on the south side of the building while dropping off materials or attending the event.
While you do not need to RSVP for this event, if you are a theatre planning to bring a large amount of materials and you know what day and time you are coming, please email jamie@chicagoplays.com to let us know. This is a huge help to us.
WE NEED VOLUNTEERS TO HELP WITH THIS EVENT!
If you can volunteer at this event, we would greatly appreciate the vital help…and we'll even buy you lunch. We need volunteers for 5 shifts, a morning shift and afternoon shift on both Friday and Saturday, and a wrap-up shift on Sunday. If you are able to volunteer for this event, please fill out the form below.
CGTA Textile Drop/Swap & Costume Exchange Volunteer Sign Up Form