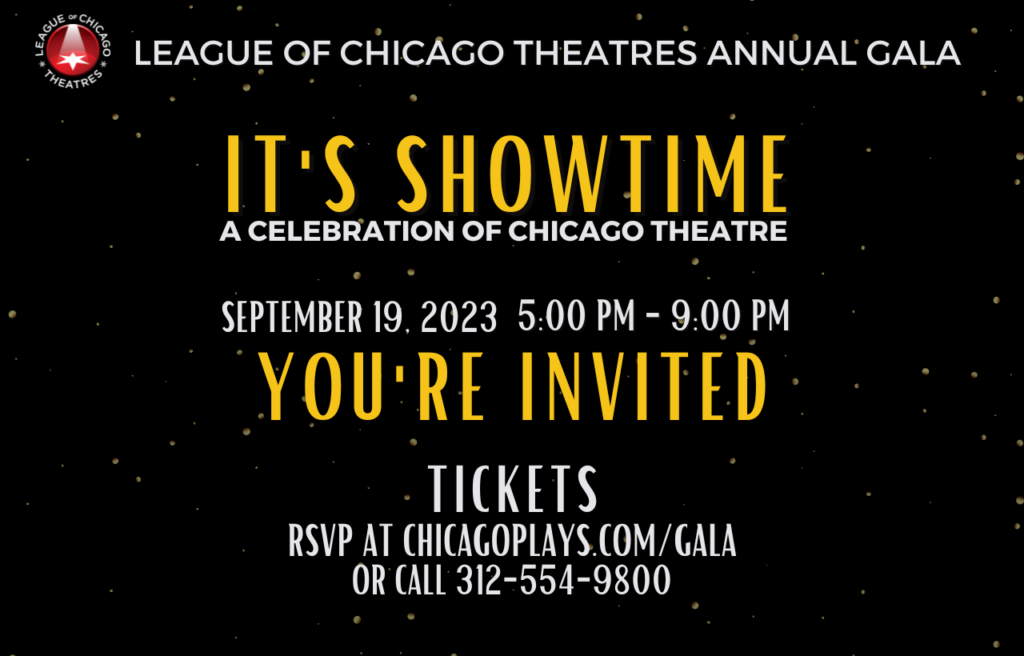 Tuesday, September 19, 2023
5:00PM
Amazing Space
625 W Adams Street
Chicago, IL 60661
League of Chicago Theatres
Annual Gala Returns!!!
IT'S SHOWTIME: A CELEBRATION OF CHICAGO THEATRE
September 19th, 2023
Amazing Space
625 W Adams Street
5:00 PM
Donate or Become a 2023 Gala Sponsor
Gala Co-Chairs:
Roche Schulfer, Executive Director, Goodman Theatre & Jorge Valdivia, Executive Director, Chicago Latino Theatre Alliance
Honoring:
Artistic Excellence Award:
Rosario Vargas
Aguijón Theater
Lifetime Achievement Award:
Eileen LaCario
Broadway in Chicago
Calling all Chicagoland theatre enthusiasts and supporters! The League of Chicago Theatres annual gala returns this fall. We're back and better than ever. Join us on September 19 as we celebrate the rich legacy of Chicago theatre. This year's gala is a celebration of Chicago's theatre community resilience. Together, we will raise awareness and financial support for the League's programs which uplift Chicagoland's more than 250 member theatre companies.
You're invited! We'd love to see you September 19th, 2023 at Amazing Space, 625 W Adams Street, from 5:00-9:00 pm. Be part of the magic and excitement. Individual tickets are $350. Get your tickets online or purchase via phone.
Sponsorship opportunities are also available. Contact mike@chicagoplays.com for more details. Additional questions? Please call 312-554-9800 for more information.