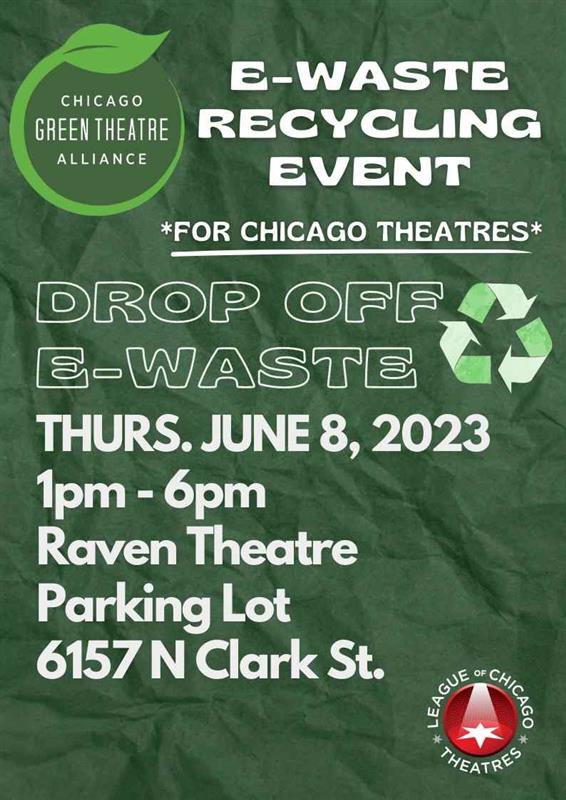 Thursday, June 8, 2023
1:00PM
Raven Theatre
6157 N Clark Street
Chicago, IL 60660
In Person Event
Schedule:
E-Waste Drive (1pm – 6pm) ~ In the Parking Lot Adjacent to the Building
Networking Event (6pm) ~ Raven Theatre Lobby
Industry Performance (7:30pm) ~ Raven Theatre – SOLD OUT

If you are a Chicagoland theatre, consolidate your accumulated E-waste and bring it to the Raven Theatre parking lot on June 8th where members of the Chicago Green Theatre Alliance will gather it for recycling. You can bring as much as you want between the hours of 1pm – 6pm and we'll take care of it.
Accepted items for the E-waste drive include InkJet Toners, Laser Jet Toners, Copier Toners, Hard Drives, Routers, Modems, Servers, Telephones, Cell Phones, Printers, Keyboards, Mice, Cables/Cords, DVD Players, Copiers, Fax Machines, Toaster Ovens, Microwaves, and Flat Screen TVs.
Prohibited items include Batteries, Light Bulbs, Big Bulky Televisions or Monitors, Styrofoam, or Glass.