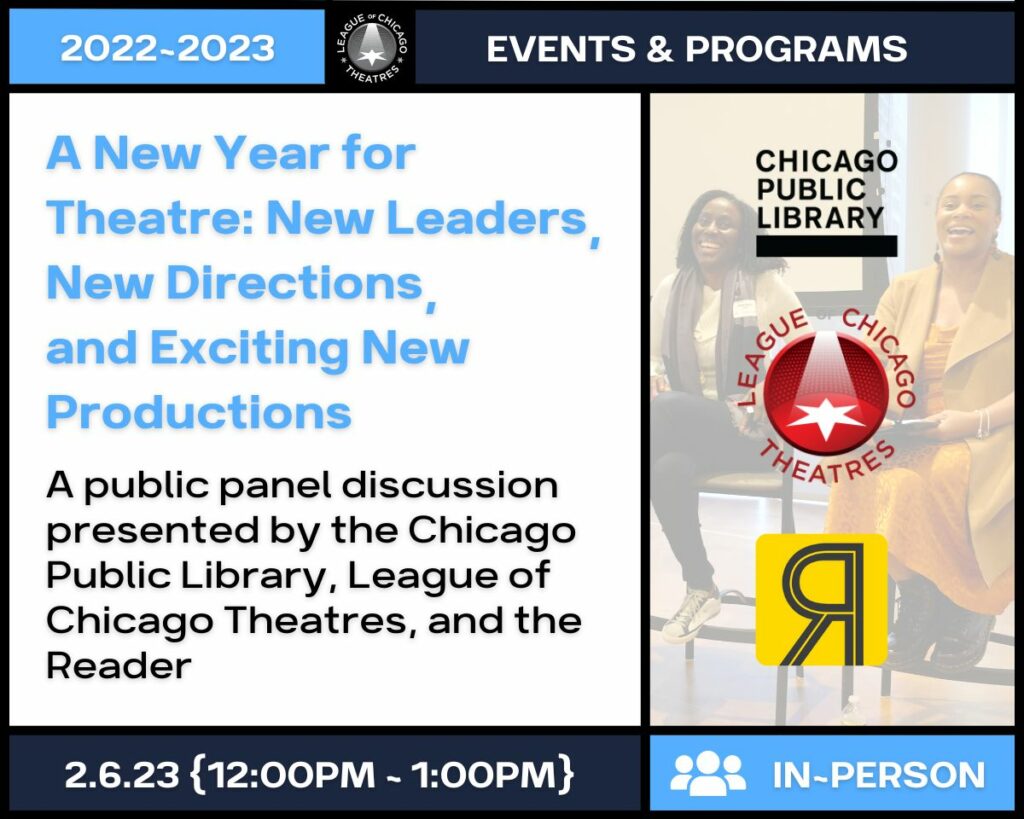 Monday, February 6, 2023
12:00PM
Harold Washington Library
400 S. State Street
Chicago, IL 60605
In Person Event
Open to the Public
Join the Chicago Public Library, the League of Chicago Theatres, and the Reader for a discussion with Kerry Reid (theater and dance editor for the Reader) and a panel of industry leaders from across the Chicago theatre scene. Hear about how these up-and-coming directors and artists are creatively approaching this first full season back in the theatre, and how they are expanding their work beyond the theatre and into their local communities. We'll learn from panelists about their upcoming projects to be featured in this year's annual "Chicago Theatre Week" and we'll have panelists pull some of their favorite plays out of the stacks for avid theatre goers to check out and enjoy.
RSVP below on the Chicago Public Library Website.  Click on the "Register" button on the upper right of the screen.  No library card is required for the event. You do not need to create a library login account to RSVP for this event.
---
Meet the Moderator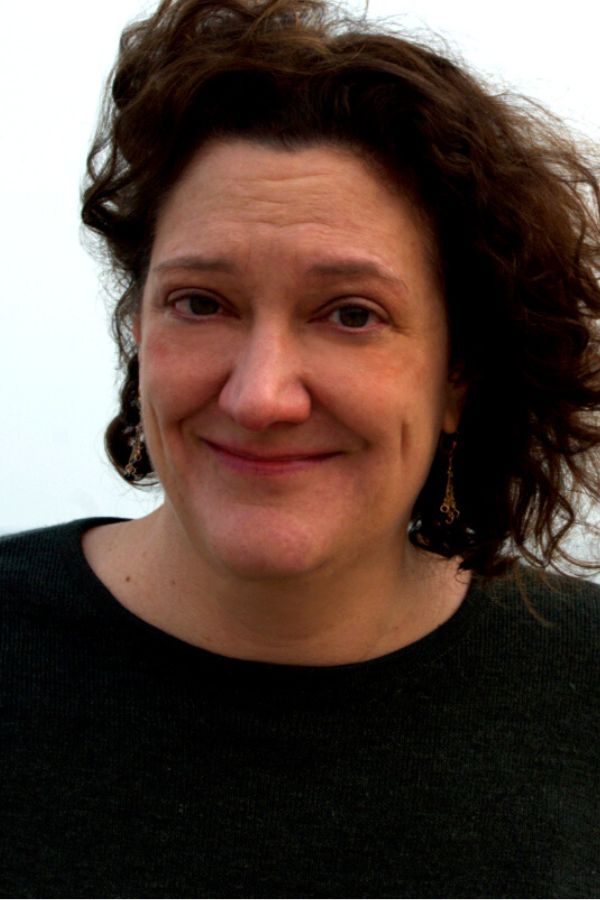 Photo Credit: Venus Zarris
Kerry Reid is the theater and dance editor for the Chicago Reader. She has been active as an arts journalist and critic for 30 years, including a stint of several years in the Bay Area in the 1990s and 17 years as the second-string theater critic for the Chicago Tribune. She's a graduate of Columbia College Chicago and an alum of several small and now-defunct theater companies in Chicago. Kerry also occasionally teaches dramatic criticism at DePaul University.
Meet the Panelists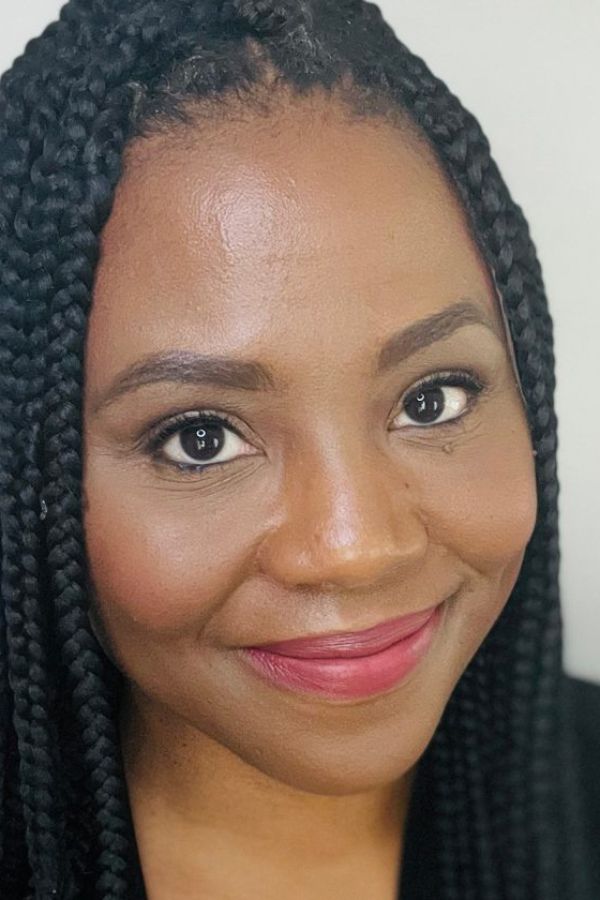 Mica Cole was named TimeLine's new Executive Director in April 2022. A Chicago native raised on the South Side, she has worked as an arts administrator and changemaker for nearly two decades. Most recently, she has been a national consultant providing executive coaching and strategic planning for cultural institutions working to embrace an antiracist leadership paradigm. Mica is a consultant with artEquity, a nonprofit organization that provides tools, training, and resources for individuals and organizations working at the intersection of art and activism. She co-led its BIPOC Surviving Predominantly White Institutions Series and the BIPOC Leadership Circle—both aimed at providing resources and mentorship to leaders of color. Prior to her work as an organizational consultant, Mica served eight seasons as the Repertory Producer at the Oregon Shakespeare Festival. As a senior leader at OSF, she played a key role in guiding the company's equity, diversity, and inclusion initiatives, many of which now serve as foundational organizational models for institutions around the world. Mica has produced more than 80 shows, including a dozen transfers and national co-productions of new plays with theatres such as American Repertory, Seattle Repertory, South Coast Rep, Arena Stage, Portland Center Stage, and Berkeley Repertory. She worked in Chicago as the Executive Director of Free Street Theater and as the Director of Education and Engagement at Writers Theatre. Mica served on the advisory committee for the Latinx Theatre Commons and is a founding member of the Black Theatre Commons. She is a graduate of The Theatre School at DePaul University.
TimeLine Theatre Company will be participating in Chicago Theatre Week with their production of Boulevard of Bold Dreams.
---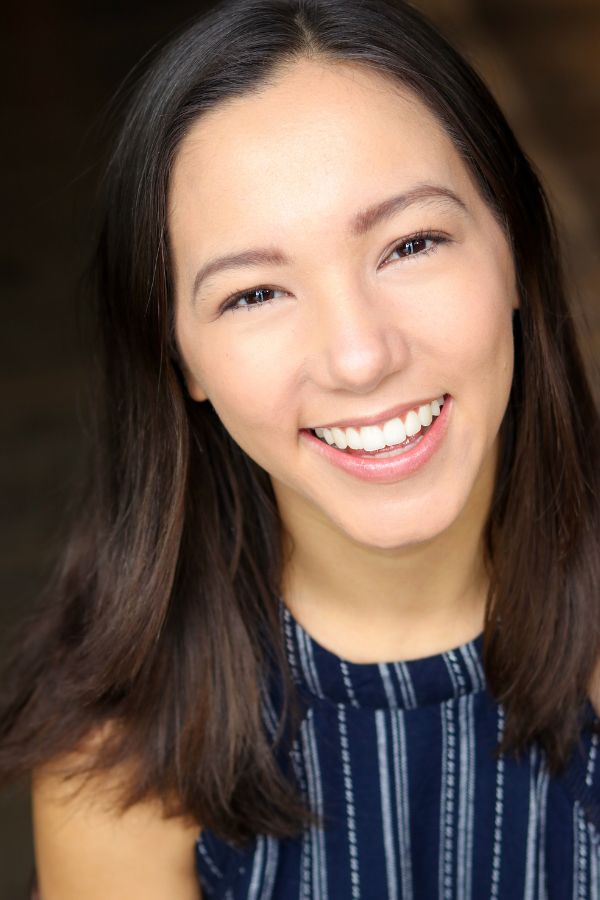 Grace Dolezal-Ng (she/her) is a Chicago based director who is passionate about building empathy and generating empowerment through visceral storytelling in live theatre.  She firmly believes that to be a good artist is first and foremost to be a good and curious human. Chicago credits include: Radial Gradient (Shattered Globe Theatre, Director); It Came From Outer Space (Chicago Shakespeare Theatre, Assistant Director); Athena (Writers Theatre, Assistant Director); Roe (Goodman Theatre, Assistant Director). Other credits: The Great Leap (Asolo Repertory Theatre, Assistant Director), Despierta! (Lime Arts Productions, Director) and Death For Sydney Black (Independent Production, Director). Grace graduated from Northwestern University, majoring in Theatre, in June of 2020. Grace was a 2022 Director's Inclusion Initiative Fellow with Victory Gardens Theatre, and a 2022 Directing Fellow at Asolo Repertory Theatre. She is a proud recipient of the Herb Alpert Emerging Young Artist Award. www.gracedn.com.
Shattered Globe Theatre will be participating in Chicago Theatre Week with their production of Radial Gradient.
---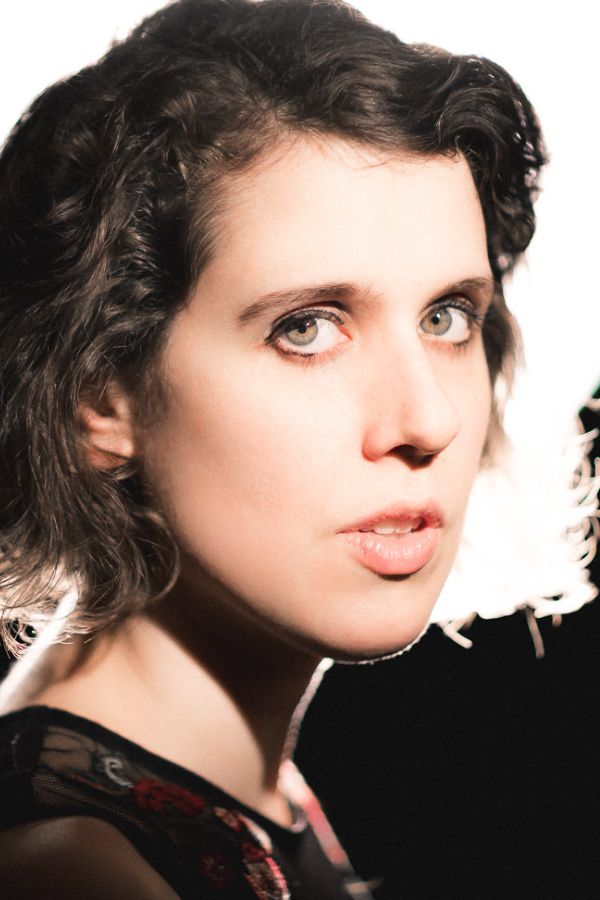 Photo Credit: Joe Mazza @bravelux
Marti Lyons most recently directed Georgiana and Kitty: Christmas at Pemberley by Lauren Gunderson and Margot Melcon currently playing at Northlight Theatre. She recently directed the co-world premiere of Wife of a Salesman at Milwaukee Repertory Theatre, Sense and Sensibility adapted by Jessica Swale at American Players Theatre, and the world-premiere of John Proctor is the Villain by Kimberly Belflower at Studio Theatre in D.C. Marti's other productions include The Niceties by Eleanor Burgess at Writers Theatre; Cymbeline at American Players Theatre; The Wolves by Sarah DeLappe and both the stage and audio productions of Kings by Sarah Burgess at Studio Theatre; the world-premiere of How to Defend Yourself by liliana padilla, a Victory Gardens and Actors Theatre of Louisville co-production; Cambodian Rock Band by Lauren Yee at Victory Gardens and City Theatre; Witch by Jen Silverman at Geffen Playhouse and Writers Theatre (LA Drama Critics Circle Award for Best Direction); Native Gardens by Karen Zacarías at Victory Gardens; Botticelli in the Fire by Jordan Tannahill at Woolly Mammoth Theatre Company; I, Banquo at Chicago Shakespeare Theater; Title and Deed by Will Eno at Lookingglass Theatre Company; Laura Marks' Bethany and Mine at The Gift Theatre. Next, Marti will direct Galileo's Daughter by Jessica Dickey at Remy Bumppo Theatre Company. Marti the Artistic Director of Remy Bumppo, an ensemble member at The Gift Theatre, and a proud member of Stage Directors and Choreographers Society. martilyons.com.
Remy Bumppo Theatre Company will be participating in Chicago Theatre Week with their production of Anna in the Tropics.
---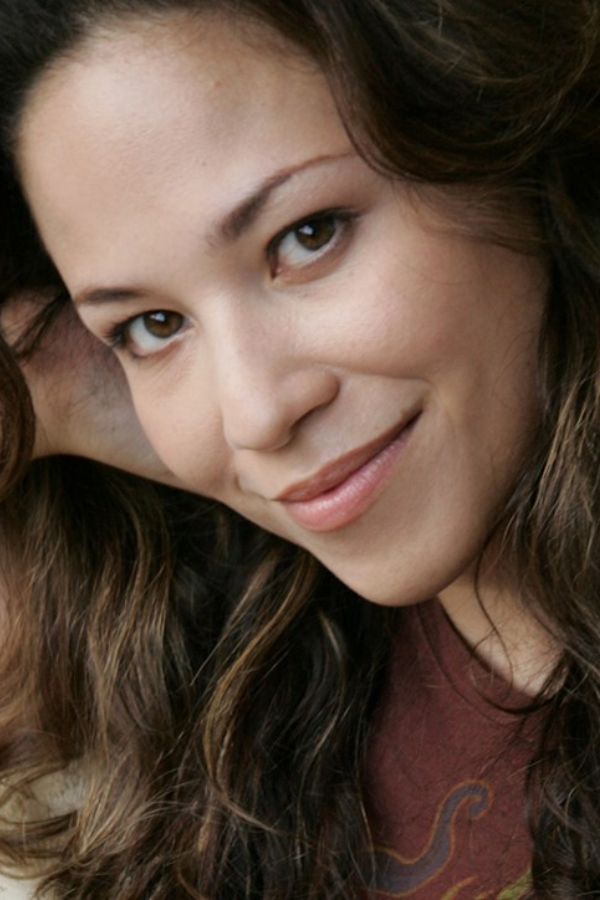 Marcela Muñoz is a director, actor, teaching artist and translator. She is the Managing and Co-Artistic Director of Aguijón Theater, Chicago's longest-running Latino theater company. Besides her long history with Aguijón Theater, her Chicago stage acting and directing credits include Teatro Luna, Teatro Vista, Victory Gardens Theatre and Goodman Theatre. Other directing credits include Urban Theater Company, Chicago Dramatists and the University of Illinois at Chicago. She has also been Assistant Director at Steppenwolf Theatre Company and Writers Theatre. As actor/director she has participated in international theater festivals in Peru, Argentina and Colombia. Deeply committed to mentoring and creating opportunities for young artists, she developed and leads the Nuestra Cultura Theater Program at Aguijón Theater for After School Matters. She studied Communications at DePaul University, is a graduate of The School at Steppenwolf, a 3Arts Award recipient and currently serves on the Board of the League of Chicago Theatres.
Aguijón Theater will be participating in Chicago Theatre Week with their production Cintas de Seda.