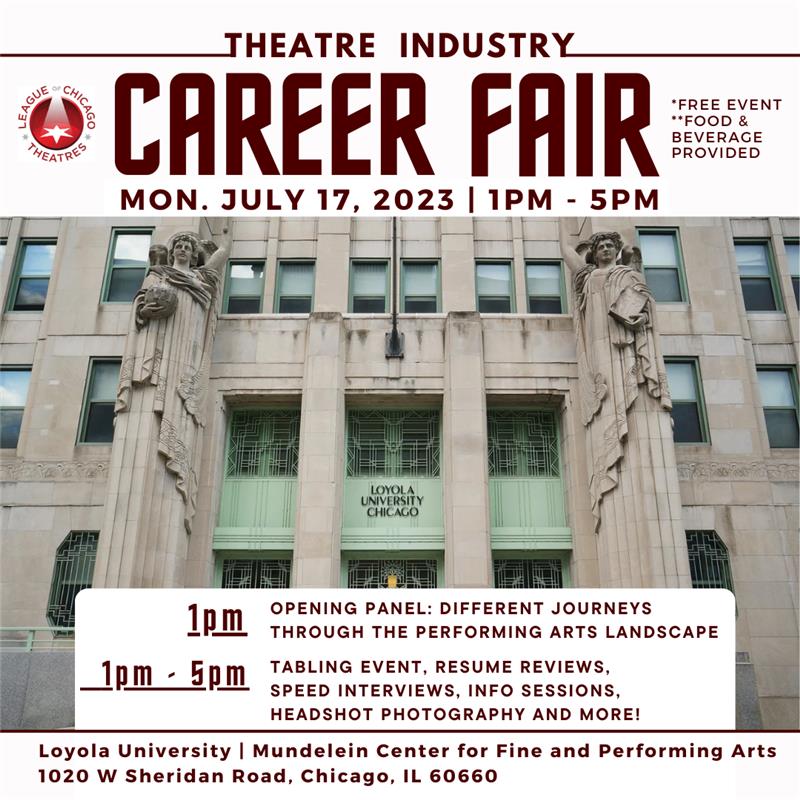 Unfortunately, there are no more available tables for the Career Fair.
If you would like to join our waitlist, please fill out the form below.
If you have any questions or concerns, email Jamie Abelson, jamie@chicagoplays.com
Dear Member Theatres and Organizations of the League of Chicago Theatres,
We will be hosting a League of Chicago Theatres Industry Career Fair on Monday, July 17, 2023 at Loyola University and we would love to have your organization take part by reserving a table for the event. You are encouraged to bring materials about your theatres, upcoming seasons, job descriptions for any current or future positions you are hoping to fill, and any information about your upcoming training or apprenticeship opportunities.
The event will consist of an opening panel discussion at 1pm, followed by the main tabling event from 2pm – 5pm. Attendees will be able to take advantage of a myriad of opportunities during the event, including free opportunities for resume reviews, professional headshots, speed interviews and info sessions with Chicago industry professionals from across all departments and disciplines.
Tables will be free for League Members in good standing, and food and beverage will be served throughout the day. Tables for non-members will cost $100. The minimum requirement for a participating organization is that they have staff members at their tables from 1:00pm – 5pm that day. While not required, we encourage participating organizations to attend with staff members who oversee or have say over hiring for positions, and that organizations bring two or more staff members so they can take part in speed interviews and other activities throughout the day.
We would like to have as many of our members as possible represented at this event!
Members and business affiliates can reserve a table for the job fair using the form below. 
If you are not a current member or business affiliate but you would like to purchase a table at the event for $100, you can do so by purchasing a table here.
Please sign up as soon as possible to help us with our planning.
The final deadline for reserving a table will be Friday, July 7, 2023.
Contact Jamie Abelson, Director of Programs, with any questions: jamie@chicagoplays.com, 312-554-9805.
Sign Up Form for League Members and Business Affiliates